Choosing An Online Casino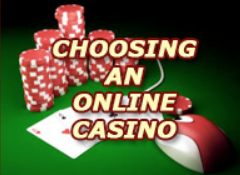 This world is full of tough decisions, do you walk the 25 minutes to that party, or do you go the lazy way and call a taxi? Now Game of Thrones isn't on screen for at least a year, should you go back to the beginning and start again? Is there such thing as too many pairs of shoes?
However, when it comes to the toughest decision of them all, there's little doubt in the minds of many, it's picking the right online casino to play at from the myriad of available options that are on offer, not to mention the countless new sites that are popping up. It's legitimately possible that by the time you get to the end of this article, there'll be another 10 online casinos in existence, so how can you possibly know you're making the best choice for you?
Whether you are looking for your very first online casino, or you're an experienced player who fancies a change, there's a lot to consider when picking your next iGaming destination.
This guide is here to help and advise you in this decision, and hopefully make the choice a little easier for you.
Types of Online Casino
The first thing to consider is exactly what it is that you are looking for.
Online casinos can be broken down into three main categories, instant play casinos, download casinos, and mobile casinos.
Instant play casinos are sites that you visit on your desktop, sign up to, and are immediately able to play online.
Download casinos are a little more complex, here there is software you need to download, and once it is downloaded you can then play on your desktop, this does mean that you can play while offline in some cases, but many still don't see this is as worth it compared to the simplicity of instant play casinos.
The mobile casino world has moved forward in leaps and bounds in recent years. Just a few years ago, mobile players were something of a forgotten entity, with few sites offering the same services for mobile players as they did for desktop players, but how that has changed.
Mobile players are now a huge part of the online casino market, and as a result, most sites will offer access to mobile players, with a plethora of sites being focused solely on these gamers.
If you are a desktop player, then it's worth considering the two options available, but most will opt for an instant play casino due to the ease of access that is offered. Obviously, you must make sure that you have a fast internet connection, and that the site is fast enough to cater for the way you like to play and the games you prefer.
For mobile players, put your research in is the best advice. You will find reviews on this site for the best mobile casinos around, so if there's one you're eyeing up, but you're not 100% sure about, see what our skilled, experienced, and unbiased reviewers have to say about it.
Safety and Security
Once you have decided on the type of casino you are looking for, the next step is to make sure that the casino you choose will protect you.
The online casino world is still relatively unregulated (although many of changes have been made in recent years) and there is still the ability for sites to take advantage of players. As with anything you are giving your money too, it's worth checking that your chosen online casino can be trusted.
The first way to do that is to check that the casino you are considering is licensed by a trusted regulator, and by the correct gambling commission for the jurisdiction you are playing in.
Some regulators are considered more trustworthy than others, for example, it is a very good sign if an online casino hold a license from the UK Gambling Commission (UKGC).
The other way to check the reliability of an online casino is, again, to read through the reviews available on this site. Our reviewers will bring you all the information on an online casino including any reasons there may be for players to be careful when deciding whether to play at them.
Lastly, always read the terms and conditions of an online casino. Many people will be in the habit of simply clicking accept when it comes to terms and conditions, and in many cases, that's fine, but when it comes to the iGaming industry, it's always worth knowing what you're signing up to.
Terms and conditions can include withdrawal limits, small print for promotions and offers, and more, so unless you want to run the risk of an unpleasant surprise somewhere down the line, take the time to familiarise yourself with the terms and conditions of any site you are considering playing at.
Promotions
Once you know that you are only considering sites that you can trust when it comes to depositing your money, it's time to whittle down the list based on what you, the player, will be getting out of it.
One of the most important factors for many players is the range of promotions on offer at an online casino.
The first promotion you will usually be faced with is the welcome bonus, which will tend to give you a deposit bonus of a certain percentage (normally 100% or over) and maybe some free spins as well. Welcome bonuses vary greatly between sites so it's worth shopping around, and it's also worth checking the small print.
Most welcome bonuses will come with wagering requirements attached, meaning that you must bet the bonus amount a certain number of times (it's not rare for this to be up to 50) which can take the shine off a bonus quickly.
It's also worth keeping in mind that the sites that offer the best welcome bonuses are not necessarily the sites that offer the best promotions for existing customers.
Always look at what other promotions are on offer, and the wagering requirements and win limits attached to each, to get a strong sense of whether this really is the casino for you.
There are some casinos, although they are a rare breed, which do not attach wagering requirements to their bonuses (there are no wagering requirements on free spins at Guts Casino, thrills Casino, Kaboo Casino, and more, for example) so if you are someone who likes to play occasionally, and are unlikely to hit the wagering requirement within the time limit given (which will also vary from site to site), then these sites are worthy of your consideration.
Games
Of course, the most important thing you are looking for when picking a new online casino to play at, is the games that are on offer for you to play.
Slot games tend to be the focus of many sites at this point, because of the rapidly rising popularity of that game type, and as a result, if you are a slots fan, you can be a bit spoilt for choice.
These days, the most popular sites tend to be those who offer games from a wide range of software developers, however, regardless of how long the list is, you want to see the giants of the industry (IGT, Microgaming, NetEnt, NextGen, Playtech, etc) included if you're looking for the most popular games around.
Of course, not everyone is a slots fan, and some players like variety in their playing experience, so you also want to make sure there's an array of table and card games on offer at the online casino you ultimately choose. Video poker is also worth looking for, and a site with a live casino will always appeal to table and card game players (especially if the live casino suite comes from a big name like Evolution Gaming).
Although slots and table and card games are the two most popular game types, there are many more, and if you are one of those aforementioned fans of variety, you are going to want to look out for sites that have more games included such as bingo, keno, and scratchcards.
Customer Support
The last thing you want to know you are getting from an online casino is support, most quality casinos at this point will offer a 24/7 live chat service, don't be scared to use this before you sign up to talk to somebody and check that you understand what you'll be getting out of the experience, and to ensure that the customer support is something you are comfortable with.
Once you've gone through these, you should find the massive list of possible online casinos you originally had has got much smaller, if you're lucky, it's shrunk down to just one, if not, you should at least be able to pick a favourite from the few you have left without too much difficulty.
The online casino world can be a beautiful place, but it can also be dangerous, so always put in as much research as you possibly can (and then a little bit more) to ensure that you will be protected at all times during your online casino journey.