The Best Microgaming Progressive Slot Games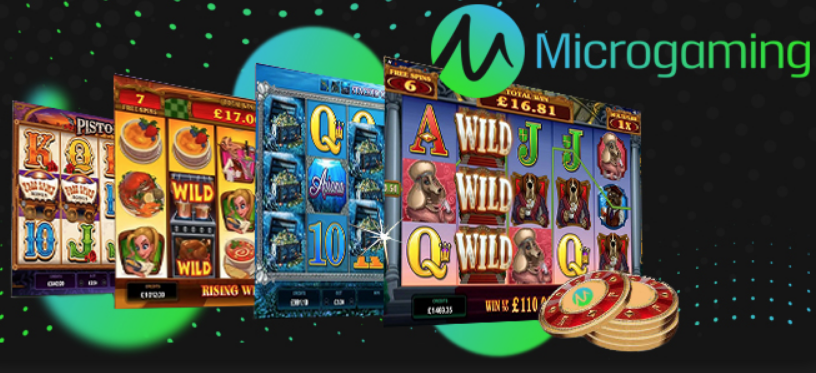 For those who have spent a lot of time on the online casino scene, it can seem at times like Microgaming and NetEnt are going through something of a great war with each other.
With games on similar themes (Phantom of the Opera, Emojis/Emoticons, and many more), and many of the most popular slot games of all time, the competition between the two seem to bring the best out of both parties, and this is perhaps never more apparent than it is with progressive jackpot slots.
NetEnt has a bunch of exciting progressive jackpot slots, but in the eyes of many, it is Microgaming who take the victory when it comes to this particular game category.
What are Progressive Jackpot Slots?
Before we get into the slots themselves, let's take a second to explore what progressive jackpot slots are, and why they have become so popular.
If you follow the news from the iGaming world, the chances are you've stumbled upon multiple stories of players who have won life-changing sums of money with relatively tiny bets, these stories are almost always about progressive jackpots, the slots than can pay out millions for a bet of £1 or less.
Progressive slots, especially popular games from developers like Microgaming, tend to have a rapidly growing jackpot that is built from a percentage of every bet that is made on the slot.
In most cases, but not in all, this jackpot is paid out at random, one second, you're spinning then reels of a progressive jackpot slot game, the next, you're a multi-millionaire, it can genuinely happen that quickly.
The higher your stake is, the more likely you are (again, in most cases) to trigger the jackpot, but there is no limit, you could win it while wagering the lowest possible amount, it's just slightly less likely that you will.
The important thing to remember about progressives, whether they are from Microgaming or any other developer, is that it's highly unlikely that the jackpot will roll in for you, it's statistically almost impossible, but it does happen, and it is that slimmest of slim chances that keep people playing progressive jackpot slots, the fact that it could, just could, be you next time.
Microgaming Progressives
There are a few differences between progressive jackpots from Microgaming and those from other developers. For a start, very few other providers come close to offering the 40+ titles that Microgaming offer, they genuinely have a slot to suit every play within their collection of progressives.
The other big difference for Microgaming progressives is that, like many other progressives, they start with a seed amount, meaning the main jackpot, and often the smaller jackpots, never drop down to zero, but it's the exchange rates that are different
While most progressive jackpots will alter the prize depending on the currency you are playing with, with Microgaming slots, the number you win is the number you win, if you are playing in Euros and you win 3 million credits, you'll win €3,000,000, if you're playing in pound sterling, you'll win £3,000,000, and the same is true for around ten more currencies.
So, if you are the kind of person who favours high risk high reward gameplay, then the chances are, progressive jackpot slots are right up your alley, so what has Microgaming got to offer you?
Mega Moolah
Let's start with the Godfather of progressive jackpot slots, Mega Moolah, which still holds the record for the highest single payout that any progressive has ever dropped.
The record was set back in 2009, with one incredibly lucky player winning in excess of $20,000,000, which is more than life-changing, it's almost world changing!
Since Mega Moolah's release, Microgaming have launched a plethora of progressives, but in the eyes of many, this old school classic, based on a classic African savannah theme, is still the best around.
Mega Moolah Isis
Off the back of the success of Mega Moolah, Microgaming have released a host of spinoff slots (excuse the pun) including Mega Moolah 5-Reel Drive and Mega Moolah Summertime, but arguably the most popular little sibling is Mega Moolah Isis.
Linked to the same four-tiered jackpot system as the other Mega Moolah titles, Mini, Minor, Major, and finally Mega, the latter of which never drops below £1 million if the prize is won in GBP, this Egyptian themed slot takes on another traditional slot game theme with style.
With five-reels and 25 paylines, Mega Moolah Isis offers a feature that can deliver up to 30 free spins with a 6x multiplier attached, meaning that there is far more than just the four jackpots to get excited about here.
Major Millions
One of the old guard, Major Millions was the first progressive slot to break the €1.5 million mark back in 2002, and is available in three variations, MegaSpin, five-reel, and three-reel. It is the classic three-reel style that has proven most popular with players, who love the retro feel of the slot.
Whichever of the three you play, the same jackpot is up for grabs, but if you're looking for the best playing experience outside of the jackpot, the five-reel variant is the one to aim for, with a variable 15 payline structure, and a military theme) hence the Major of the title.)
A fun slot that includes multipliers and more, the progressive is won by landing five Major Million logo on the 15th payline.
Fruit Fiesta
Many of Microgaming's progressive jackpot slots are based around classic slot game themes, and they don't come much more classic than fruit.
A five-reel fruit machine, with a variable 15 payline structure and a progressive jackpot, Fruit Fiesta combines the modern and the traditional with style.
Like Major Millions, the progressive jackpot is only available if the player bets on all 15 paylines.
Old school Microgaming fans may be confused as to why this slot has five reels, as it was initially a three-reel slot, but the upgrade happened a while back and, to be fair, the slot is substantially better for it.
King Cashalot
Perhaps the most ham-handed name in a sea of progressive jackpots with ham-handed names, this medieval themed slot title has five-reels and nine paylines and holds a place in history as the first slot to ever offer a Pick-until-Collect bonus feature.
There's a bunch of different features available in the slot, which features court jesters and members of a fictional royal family on the reels, land three Dragon bonus symbols to trigger the Treasure Bonus round, while the Jester scatter symbol will add a multiplier to wins.
If you're looking for the big win here, you need to land five wild symbols (the King) on the 9th payline which will trigger the progressive jackpot.
Treasure of the Nile
Egyptian themes are about as popular a concept as you will find for online slots, so it's no surprise that Mega Moolah Isis is not the only game in Microgaming's collection to utilise it.
Far from looking like every other Ancient Egypt styled game, however, Treasure of the Nile is arguably the best-looking progressive that Microgaming has to offer.
The symbols on the reels are all pretty standard, the Sphinx, snakes, Egyptian Gods, and more themed symbols.
Treasure of the Nile is less popular than some of the other progressives listed here, this is partly due to a lack of features in comparison to the others, and partly because the bet per payline is set at 50p, meaning that ever spins will cost £4.50 and that cost cannot be reduced, or indeed increased.
To claim there are no features to speak off would not be fair, however, for a start, wins are available from right to left as well as left and right, which increases the chance of landing a winning combination, while the wild and scatter symbols can lead to nice wins.
As with King Cashalot, five of the jackpot symbols (the death mask of Tutankhamun in this case) are necessary to trigger the progressive jackpot, which can lead to a huge win.
It's reasonable to state that there are a lot of options when it comes to Microgaming's progressive jackpot slots. The themes are widely varied, although, for the most part, they're not particularly unique for slot games, and there's a host of different gameplay options. Whether you're looking to bet small or bet big, you'll find a game in this selection that will give you a chance, even if it is the most remote of chances, to win an amount of money that will change your life forever.
Next year Microgaming will be celebrating its 25th birthday, meaning that as long as there has been an online casino industry, there has been Microgaming, which is quite the accomplishment.
There are many reasons why Microgaming has continued to enjoy huge levels of success over the two and a half decades (almost) it has been around, but the wide array of progressive jackpot slots on offer, and the many millionaires they have created (with half a billion Euros having been paid out to this point) is definitely close to the top of that list.