What Is RTP And Why Is It Important?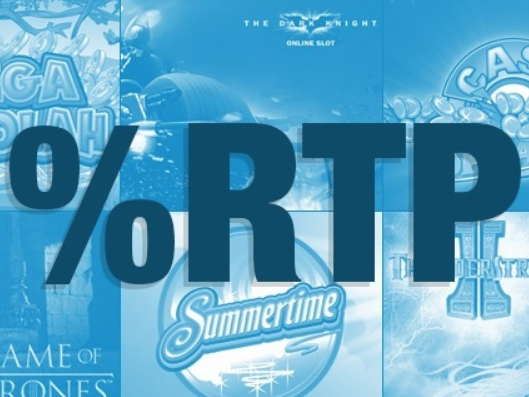 When you are playing online casino games, or reading reviews of them, you may see the letters RTP fairly frequently. Most people have worked out that the higher the percentage, the better it is, but what exactly is RTP? And what does it mean for you as a player?
It's fairly common knowledge that RTP stands for return to player, but what exactly do the numbers mean? What difference can a fraction of a percentage make? And how does it affect the gameplay of a slot, and your chances of picking up a big win?
This guide is here to explain RTP in detail, so the next time you see a slot game, for example, with a specific RTP attached to it, then you will know exactly what that means, and exactly what you need to do.
How is RTP Calculated, and What Does It Really Mean?
The important thing to remember, above all else, when it comes to the RTP of an online casino game, is that the numbers are theoretical.
The RTP rate is the percentage of total wins in comparison to the total money wagered on a game, but as mentioned, they are theoretical, a game with an RTP of 97% does not mean you are guaranteed to win £9.70 for every £10 you wager on a game.
The numbers aren't meaningless though, the percentage is calculated over a long period of play, so although they are not a guarantee and cannot be relied on as such, RTP rates do give you a good idea as to how likely you are to pick up a win on a slot. It is far more detailed and intricate than this, but it is also true that the higher the RTP, the higher your chances of winning.
Why Are RTP Numbers Not Precise?
It would be a lot easier for all of us, as fans of online casinos, if the RTP of a slot game was a precise number, so once you picked up a win, and that put you in profit, you could know when to back away before the RTP evened itself out, but that's not how it works.
The reason why is simple, some people don't win anything during an extended period of play on a game, while others may win big. If someone wins thousands of pounds from a 25p spin, for example, the RTP would no longer statistically allow for each play to win 97% of the time.
The best way to look at it, is that if you win £67.90, for example, you are winning the £9.70 that is owed to seven other players, so although the average will equal to around 97% in terms of payouts, it is not evenly distributed amongst all the players who are playing that particular game at any one time.
It is this uncertainty that appeals to many gamblers, yet it's difficult to not assume that you will definitely win at some point if a game has a high RTP, but as with all aspects of gambling, there are no certainties, and no guarantees that you will win at any point.
House Edge
The phrase house edge is one you are likely to hear a lot when it comes to gambling, whether at online or land based casinos.
The house edge is essentially the opposite of the RTP, being the advantage that the casino (or 'house') has over the gamer in the game they are playing. If we stay with the 97% RTP example above, in this case the house would have an edge of 3%.
You will never find a game that doesn't have a house edge because casinos survive on the profits they make, and profits come from having that edge.
Basically, the important thing to remember here, is that you are always more likely to lose than you are to win, because the casino needs its profits. That doesn't mean you won't make a profit, because it's entirely possible that you will, but what a house edge means is that all players, when you take an average, will be working at a loss and the house will be making a profit.
It is vital to keep in mind that online casinos are a business, and big business at this point, and the point of a business is to operate at a profit.
It is, therefore, wise for most players (with the exception of the high rollers who can take the losses if necessary) to play for fun, and never, ever bet an amount you can't afford to lose. Protecting yourself and your money should always take priority over a risk that could put you in a difficult position.
Does a High RTP Mean a Better Game?
With the explanations above, you'd be forgiven for assuming that the higher the RTP of a game, the better it is, but this isn't always true, and it is especially variable within slot games.
There's a few factors that can affect the RTP in slot games, firstly, there is a recent trend of slots with an RTP that changes the longer you play, rising as you play through the levels of the game to try and tempt people to stay longer and bet more.
However, there is a more longstanding difference maker outside of RTP, and that's volatility.
Volatility, which is also known as variance, essentially means that risk one take, a low volatility slot game is a low risk bet, a high volatility game is a high-risk bet.
High volatility games are those which do not pay out as often as low or medium variance choices, but when they do, they tend to pay out bigger.
The law of averages means that a high volatility slot will, almost without exception, have a lower RTP than a low variance option, but if you happen to land a big win early, you could end up profiting far more from it, meaning that these games being lower in terms of RTP (and therefore higher in terms of house edge) does not mean they are not worth playing.
Continuing with the example above, a high variance slot is not collecting 9.70 on every £10 in order to pay that out seven times, the number is likely to be much higher, so you're less likely to win, but if you do win, it's far more likely to be a big amount of money.
Which Games Have the Best and Worst RTP?
The RTP of a game can change dramatically depending on the type of game you are playing.
Slots have by far the lowest average RTP of any online or land-based casino game, with anything over a 94% RTP seen as reasonable for a slot, and those which approach the 96% or above are seen as great options.
Bloodsuckers by NetEnt is a slot that has one of the highest RTPs ever seen, sitting at 98%, which is a large part of the reason that this slot game has enjoyed a huge level of popularity for as long as it does, and its sequel, which was recently released and has an RTP of just under 97%, is also seen as impressive despite having an RTP more than 1% lower than its predecessor.
98% may seem exciting, and for a slot it is, but there are other game types that would frown at a 98% RTP.
The highest RTP offered at a casino is usually for blackjack games, which average out at around a 99.5% RTP, giving the house a very small edge of 0.5% and making this by far the most likely game category for you to make a profit on.
Blackjack will rarely pay out in huge numbers, instead you may find a steady stream of wins which puts you up by a small amount, but if you play for too long, the chances are the odds will even out and leave you at a loss, but that loss will tend to be small because of the incredibly high RTP involved.
Not all traditional casino games have an RTP as high as Blackjack, the RTP on European Roulette, for example, is a little over 97%, which is worse than some (but not many) slot games, and American Roulette has an even larger house edge due to the extra 00 on the wheel.
When it comes to playing at online casinos, there's a lot to consider, and it would be an error to assume that the RTP of a game is all that you have to worry about.
However, when it comes to weighing up the factors that you need to consider, RTP should be as important as the volatility of a slot, and, when it comes to games of skill (like poker for example) your own experience and ability when it comes to playing.
It is worth being aware what the RTP of a game means, and also remembering that just because a game of blackjack has an RTP of nearly 100%, does not mean you are guaranteed to not lose, in fact, in the long term, it essentially means the opposite.