Online Casino Complaints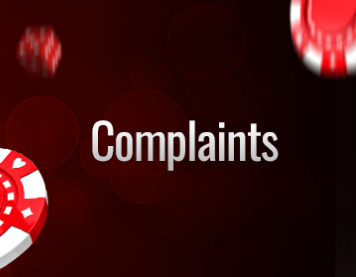 With any industry that enjoys the high level of customers that the online casino industry can boast, there will always be complaints, especially when that industry involves the passing of money between players and casino sites and (if you're lucky) the passing of money back again.
It is therefore no surprise that there are many complaints that occur within the online gambling world. These range from the serious, such as people who feel they have been scammed out of their money, to the more casual, like a player not enjoying the soundtrack to a specific casino game.
You can rest assured that almost any complaint that you can think up has at some point been made, which is true in the wider world as well as in the online casino market.
However, there are a few complaints that are more frequent than others, here are a few of the most common complaints, so you know you're not alone if you suffer these issues, or so you can attempt to avoid getting into a position where these complaints would be necessary.
Scams and fraud
One of most common types of complaint is also, unfortunately, the most serious. These are complaints about the unethical actions of a particular casino because of fraudulent activity.
The frequency of such complaints may surprise some, but it is an important sign of how treacherous the world of online casinos can be if you are not very careful.
With an industry of this size, you will always find those who are looking to make a fast buck at the expense of others, especially within an industry that is historically as unregulated as iGaming.
Steps are being made in this regard, and regulations are much tighter than previous, but there's still a way to go, and the dangers are still there.
There are many scams out there, which is why it is always important to put in the necessary research about a site you are considering playing at before signing up to it.
Some of the most common things to look out for are:
Slow pay or no pay – This can be one of the most irritating things for a player. You've been playing at a new casino, you got lucky and landed yourself a couple of nice wins, and now you're looking to withdraw your cash.
You go through the withdrawal process, you are told the money will be released to you in no time, and then you sit and wait, and you keep waiting, but the money doesn't arrive, or at least it takes an unacceptably long time to do so.
Complaining to professionals in the industry who are there to help in such situations, can result in pressure being put on the casino and the consequences being made clear, which you may find speeds up the payment process substantially.
Close downs – Another problem that can affect online players, is when a casino simply shuts down without notice, taking your money with it.
The online casino industry is a tough nut to crack, and companies often do not make the money they expect to, and therefore are forced to close.
Often, this is done honestly and respectfully, with players being informed and all money in all accounts being returned to players, but this is not always the case.
Sometimes, however, a casino that is closing down will look to make all the money it can on the way out, so they will take player's money with them. It can be difficult to follow this up, as once a casino is closed they are harder to contact, but there are companies who will help you claim back any moneys owed.
Bootleg or illegal games
Some sites have been caught in the past offering bootleg versions of games from popular software developers.
These games can be dangerous to players because they often do not follow the fairness regulations, meaning that it can be more likely for players to lose money playing these games.
If you think a casino may be offering illegal games to players, it is important to report it immediately.
Other complaints
Complaints are not always made due to unethical practices on the part of a casino. Many complaints come as a result of a misunderstanding, or an error on the part of either the casino or the player.
Here are a few of the most common issues that can arise:
Violation of terms
Terms and conditions play a large part in the online casino industry, and it is always important to read them before playing.
Complains can be made as a result of players being punished for violating terms at a casino, or not carrying out the necessary requirements on a bonus.
Casino bonuses are the main reason for complaints against a casino, bonuses will often come with a host of terms and conditions attached to them, to the point that many more experienced players will avoid bonuses in order to not have to deal with wagering and playthrough requirements, and other terms that can be added.
If you do not follow the terms laid out at the casino, and these terms are presented in full at the site, then the blame is with the player if you are unable to withdraw money, for example, and a complaint will not be successful.
It can be annoying when you lose out on money, or the playing experience you are looking for, due to overlooking the terms and conditions of a particular site or game, so ensure you have read all relevant information before depositing or playing.
Documentation
Known as KYC (Know Your Customer) issues, these arise when a casino struggles to verify a player's identity, and therefore signing up to a site is delayed.
Some players will attempt to con a casino, and this is unlikely to be successful, and could end in fraud charges.
Due to this, casinos will often be very careful when verifying the identity of players. If you are an honest player, and the verification process is taking a long time, then contacting the casino should mean you can resolve any issues or disputes over documentation.
Game errors
Sometimes, a technical issue will occur with a game, which can cause players to lose money.
The majority of casinos will specify in their terms that they are not liable for technical errors, however, most well-reputed casinos will try to provide reparations to players who have lost out.
It is important to collect evidence of a technical failure, as it may only exist for a brief amount of time, so by the time you complain it may have resolved itself. Having proof makes it more likely that you will be compensated for your losses.
Self-Exclusion
Self-exclusion is a difficult area. Although steps have been made to help problem gamblers and vulnerable players to exclude themselves from sites, there is still a way to go, and that means that this area can be tough to navigate.
Self-exclusion is a tool used by fraudsters, so you may be met with suspicion when you approach the subject.
On top of that, there is a notable difference between the amount of help and assistance you will get from various sites. If you are a problem gambler who is struggling to exclude yourself from a site after contacting them and informing them of your desire to do so, then you have the right to complain, because sites must offer self-exclusion options for player.
What to Remember
When you are playing games at online casinos, there is one thing to remember, it is vital to document everything that occurs.
Most (genuine) complaints that are unsuccessful, are unsuccessful due to the lack of evidence from the claimant. If you document all transactions and communications that occur, especially any surrounding money or terms and conditions, then you are far more likely to be able to make a successful complaint against a casino.
The increased regulation of the online casino industry should mean that there is less reason for complaints going forward. But as stated earlier, there is still a long way to go in terms of safety and security, so it is always worth threading with care when dealing with a new site, or making a deposit or changing any details at any site, even one that you trust.
There is a lot of online information around, from casino reviews, to news articles, to guides, and it is sensible to take advantage of all this information to give you the best understanding possible of the industry, and of any specific site that you may be considering signing up to.
There are many players who have never had to make a complaint during their tenure playing at online casinos, and the chances are, it will be the same for you. However, if the moment ever does come where you need to make a complaint, it is definitely in your best interest to be as prepared as possible.