How Casino Bonuses Work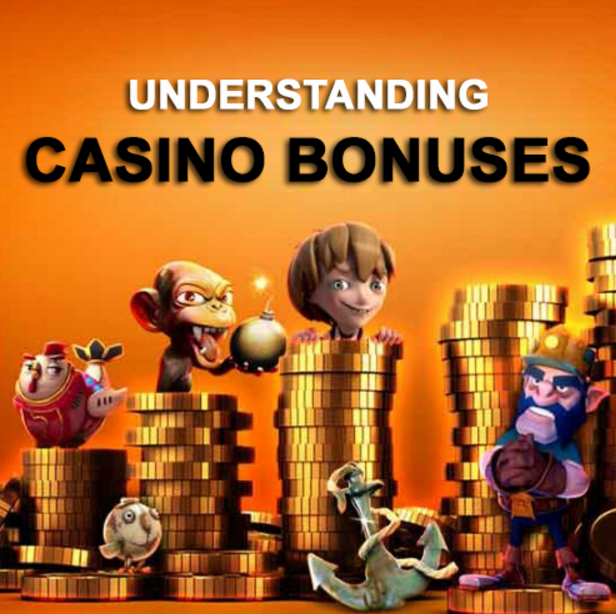 When you first start playing at online casinos, one of the first things you are likely to notice is the smorgasbord of different promotions that are available at various sites.
On the surface, these offers may look simple enough, but as you read through the small print, you start to realise that there are far more complexities to promotions and deals than it initially appears.
The requirements and necessities of promotions can be incredibly confusing at times, but you can normally break down the small print on such deals into a few different categories.
Playthrough and wagering requirements
Firstly, let us deal with the small print that exists with most (but not all) promotions, play-through or wagering requirements.
Most promotions that are offered at online casinos will come with labelled play-through or wagering requirements. This can be the most confusing kind of bonus, and at first can seem far more complicated than is necessary.
The wagering and/or play-through requirement will differ from casino to casino, but the rules will stay the same, so let's work with an example.
Say you have signed up to a new casino, and you have received a 100% deposit bonus. If, hypothetically, you have deposited £200, then you will have received a bonus of £200 on top of that, you now have £400 to play with for your initial £200 deposit.
If the offer states that the wagering requirement is 20x, then this will usually mean that you have to wager your deposit and bonus (which in this example if £400) 20 times before you can withdraw any of your winnings. £400 x 20 is £8,000, which means that you will have to make £8,000 worth of bets before you can withdraw any winnings you make. Sites often have a time limit added to these requirements, for example, giving you 30 days to wager the necessary money before you lose the deposit bonus you were given, and any winnings you gained from it.
If the deposit bonus you have chosen has a playthrough requirement, then, in most cases, that will mean that the rules are basically the same as above, except that the requirement only counts for the bonus you are given. Working with the example above, that means that if the playthrough requirement was 20x, and your bonus was £200, then you'd have to make £4,000 worth of bets before withdrawing any winnings.
It is also often the case that there are selected games that count towards this bonus, and, in some cases, some games count more than others. For example, 100% of bets you make on slots may go towards your wagering or withdrawal or playthrough requirements, but only 50% of bets on table and card games may count towards it.
It is, therefore, very important to read the terms and conditions of a deposit or welcome bonus before making your deposit.
Types of bonuses
There are a few main categories when it comes to promotions, here is a brief break down of each of the most popular that you are likely to come across during your time in the world of online casinos:
No Deposit Bonus
No deposit bonuses are very popular, partly due to their simplicity, and partly due to the fact that they involve no upfront investment from players.
A no deposit bonus is a bonus that you are given when you sign up to a site, but before you make a deposit. These bonuses often come in the shape of small amounts of bonus money, or a certain amount of free spins.
Some sites will automatically credit your account with this bonus as soon as you sign up, but others will require you to sign up for it or use a specific bonus code, so, as always, it is vital to read the terms and conditions before you sign up.
These bonuses will often come with playthrough requirements like those explained above, but there is often an additional rule on these bonuses, a cap on the amount you may withdraw. This means that there is a limit on the amount you can win and withdraw with this bonus, so it's worth being aware of this before you start spinning the reels on jackpot slots and waiting for a cool million to roll in!
Some casinos don't have a cap, but will require you to make a deposit before you can withdraw in order to show proof that you do intend to play real money games at the casino.
Match bonuses
This is one of the most frequently offered bonuses at online casinos. Most places you sign up with will offer a welcome bonus, like the one used in the example in the Play-through and Wagering Requirement section above.
Match bonuses will offer you a certain percentage of a deposit you make as a bonus. When this is used as part of a welcome offer, then the deal is usually a 100% bonus, but it can go higher than that to 200%, 300%, or even higher. In most cases, there will be a limit on the size of this deposit that will be clearly labelled, for example, a 100% deposit up to £200.
Some welcome bonuses will then offer you match bonuses on your next few deposits, but the percentage will normally go down from one to the next.
It isn't only in the case of welcome bonuses that a match bonus will be offered, some sites will have sporadic promotions that offer a math bonus of a certain percentage, and there are even some sites that will offer you a small match bonus (usually between 10% and 20%) on every deposit you make at the site.
Free Money Bonus
A free money bonus is almost exclusively used as a welcome bonus. This is similar to a match bonus, except that instead of getting a percentage of the amount you wager, there is a set amount of bonus money that you will be given as long as you deposit above a set minimum.
It is often the case that these bonuses are preferable to players who want to make a small deposit, while match bonuses will be more tempting to those who make larger deposits, because the amount will rise in accordance with the deposit.
Sticky Bonus
These bonuses are often referred to by several names, and they are arguably the most complex of all those listed here.
A sticky bonus means that the bonus money you are given comes with a play-through requirement, but once you've played it through, the bonus money will disappear from your account. Essentially, this is a loan you get from the online casino you are playing at.
This may seem fairly pointless on the surface, because what's the point of playing with money you don't get to keep, right?
However, there is a reason while these bonuses can be useful. Sticky bonuses are often very high, regular up in the thousands, which gives you the ability to play games through with maximum coin bets, something that you might otherwise avoid. This gives you the chance to pick up some huge wins from games, and ultimately make some good money once you've managed the playthrough requirement and the deposit has been returned.
Loyalty Bonus
The online casino market is one of the most competitive in the world, and with a huge number of sites in existence, keeping players is incredibly important. For this reason, customer loyalty will often be rewarded, and rewarded well.
Loyalty bonuses come in many forms, but they normally involve some kind of loyalty program (sometimes referred to as a VIP program or scheme). A loyalty program means that you start on a certain level, for this example we will use the most popular name for this level, Bronze.
At a Bronze level, you may receive some small bonuses and treats. Once you have wagered a certain amount (often within a month) you will then move up a level, to Silver, where the rewards and bonuses will be slightly higher. This will continue up higher levels, which are often Gold, Platinum, and finally, Diamond (different sites may change the names of the levels to match their theme, or refer to them as something simpler, such as Level One, Level Two, etc. but the rules tend to stay more or less the same).
Once you reach this higher level, you will find yourself showered with bonuses, you will also normally receive a personal account manager at this point, as well as tickets to exclusive events and more. This is where all players want to end up, but it will often involve parting with fairly large sums of money in order to make your way to the top. Within a loyalty program, it is less likely that one will have to deal with playthrough and wagering requirements, but this is not always the case.
The world of online casino bonuses can be immensely confusing, but as long as you read this guide, and make sure you read through the terms and conditions on every site, then you will be okay.
It is vital that you continue to read these terms and conditions, even when you think you have a handle on how bonuses work. The laws and regulations around the online casino industry are constantly changing to keep up with the market's rapid growth, so what's true today, may not be true a few months down the line.
Gambling commissions are expected to start increasing regulations on casino bonuses to protect customers, so it is very possible that as time goes on, bonuses will start to look less impressive, but will not include wagering requirements, and will therefore actually be more profitable for players.