What Are Live Casinos?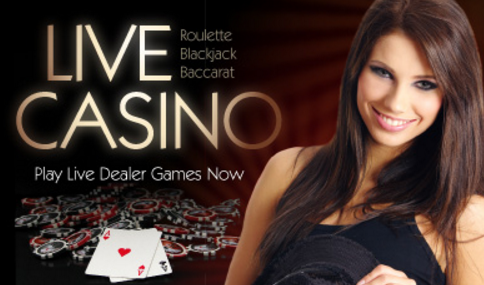 The world of online casinos is vast and continuing to grow on a daily basis. With countless sites, and more games and game types than one knows what to do with, it can feel like a treacherous and complex path to tread if you are yet to have experienced it.
A large amount of the online casino scene is fairly self-explanatory, especially when it comes to game types. The likelihood is you know what slots are, and you will have at least a passing knowledge of table and card games, bingo, scratch cards, sports betting, and everything else that's available.
However, there are some aspects of the market that take a little more time to understand, and one of these is live casinos.
Live casinos have always enjoyed high levels of popularity amongst players, because they give the opportunity for a player to enjoy that true to life experience from the comfort of their own home, meaning that they can fulfil their James Bond fantasies, pretending to be dressed in a suave suit, sipping on a martini, surrounded by beautiful women, while actually chilling on their sofa in a dressing gown drinking their body weight in tea with a dog curled up at their feet, which let's face it, sounds more tempting to most of us anyway!.
If live online casinos are something that interests you, then there's a few things you need to be aware of, not least, exactly how it is that they work.
Live Casinos vs Regular Online Casino Games
In many ways, an online live casino is very similar to other online casino games, they are played much the same way, you use the same account that you have at a site that is used for slots and other games. You make your bets like you would in a non-live table game, and your winnings come to the same place.
However, there are also some significant differences between the live casino games and other games. These differences will become immediately apparent when you start playing at a live casino. When you open the game, you will be greeted by a live video of a dealer standing by a table, this will be a blackjack, roulette, or poker table depending on the game that you are playing.
This live dealer will have the same skills and abilities that any Vegas dealer will have, and will run a professional and fair game.
You are also likely to find several other players around the table, all of whom will most likely to be playing from their homes as well. In this sense, a live casino has more in common with a table game in a land based casino.
Bets are placed, the game is played, and the winnings go to those that win them, you will also have the ability to chat with other players and the dealer. If you are one who enjoys a true to life experience, then live casinos will definitely appeal to you.
The Perks of a Live Casino
The advantages of playing in a live casino are fairly obvious. It is a perfect place to get that real-life casino experience, but in a far easier environment. If you have a spare hour, the travel to and from a land based casino would take that time, and it would feel like a waste to only pop in for a short time. However, with an online live casino, you can just open up the relevant site on your laptop, desktop, mobile, or tablet device, and be playing within seconds from the comfort of your own home, and then stop as soon as you have other things to do.
Playing at a live casino also gives you the chance to meet other like-minded players. There are stories of couples meeting in online live casinos, but it's probably sensible not to assume that is likely happen!
Live Casino Etiquette
One thing you must be aware of when entering a live casino environment, is there is a certain etiquette you will be expected to follow.
Firstly, live casinos enjoy much of their popularity due to being a fast-paced environment, so you will be expected to maintain that. Obviously taking thinking time is fine, but make sure you are in a position where the game you are playing is the only thing you are concentrating on. If you delay the game due to doing other things, or for any other reason, you will be warned by the dealer, and may end up being removed from the game, and even banned from the live casino if the problem persists.
There are also certain behaviours that are expected when it comes to the chat functions. Obviously, abusive or offensive language towards another player will not be tolerated at all, and you are likely to be removed and quite possibly banned from a live casino if you do this. There is also a zero-tolerance policy in all live casinos when it comes to sending spam or marketing messages to other players.
You are often able to watch a game before joining in, and you will have the ability to chat at this point too, but if you are not involved in the game, then try to keep your chat to a minimum, and only ask relevant questions, instead of distracting players from their game.
Live Casino Games
There are many live online casino games around, but for the most part they will fall into one of four categories.
Live Blackjack
Blackjack is also often known as 21 and is one of the simplest card games around. You and any other players at the table are playing directly against the dealer. You start with two cards, and you add cards to attempt to get as close to 21 as possible without going over. If you go over 21 you 'bust' and lose immediately. All royal cards are worth ten points, Aces can be one or 11, and all other cards are worth their number.
Live Poker
Live poker games come in various forms including Casino Hold'em, Caribbean Stud, and Three Card Poker. In all cases you are looking to get the best 'hand' of all players, and you bet on your ability to do so. An online live casino environment can be both a blessing and a curse in poker games, as you cannot read other players to see if they are bluffing, but they cannot read you either.
Live Roulette
Roulette is another simple game. Live roulette at online casinos comes in three different forms, French, European, and American. In American Roulette the house has a higher advantage, but the basic concept of each is the same.
You can bet on a colour if you want to take a safe bet, or a number if you want a punt, obviously the pay-outs differ depending on which of these you choose.
Once you've made your bet or bets, the dealer spins the wheel and rolls a ball around it, the number and/or colour that the ball lands in will dictate whether you win.
Live Baccarat
Baccarat has found a whole new lease of life in the online casino world, and has become a very popular game in a live casino setting.
In baccarat, you are betting on the outcome. You bet on whether the dealer will win, or if it will be a tie, and bet on the option you have chosen. The winner is the closes to ten, royal cards are worth no points, as is ten, while the ace is worth one point and all other cards are worth their face value.
Live casinos can be a scary place for the newbie, and it is advisable when you are new to the online casino world, especially if you are also new to casino play in general, online or otherwise, to take the time to play non-live games first to get used to the game you will be playing before entering an online casino environment.
If you are new, and you fancy jumping straight into a live casino game, then the one thing you must do is be sure to have read through the rules of your chosen game thoroughly. As stated in the Live Casino Etiquette section above, a live casino game moves at a swift pace, and you will be expected to keep up. There are beginner's games and games with smaller maximum bets that are available, it is sensible to start with these, but you will still need to be aware of how the game works before you start playing.
Once you know what you want to play, and you're comfortable in how the game works, then it's time to set foot in a live casino and start playing, meeting other players, and seeing if you can win big.
As terrifying as they may be at first, live casinos can be the most fun and exciting places to play online casino games, because everything happens in real time, which adds to the nervous tension of the moment, and makes it even more joyful when you win!