Slot Game Variance And How It Works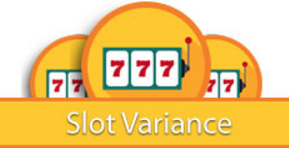 Whenever you play a slot game, or read information or a review on one, the word variance is likely to come up a lot. It's a word we all see regularly during online casino play, some slots are low variance, others are high variance, which we know has something to do with how likely they are to pay-out, but that's often as far as our understanding goes.
It is, of course, the case that many slot players are far more interested in whether a slot is enjoyable to play than whether it is more or less likely to pay-out, but let's face it, we all harbour secret dreams of picking up huge wins from small bets, and understanding the variance of a slot game helps one to know how likely this is to happen.
As much as the style and theme of a game, and the reputation of the developer behind it, have a huge impact on whether or not a player is more likely to play a game, variance is also of the utmost importance, if not the most vital factor in picking a slot.
However, so often the phrases high variance or low variance are used without context, that it is sometimes difficult to understand exactly what that means.
The easiest way to understand variance on the simplest level, is to replace the word variance with the words risk and reward. For example, a low variance slot is a low risk, low reward slot, whereas a high variance slot offers higher rewards for higher risk.
That helps a little, and is a good start, but to truly understand how variance works, there is more information necessary.
Low Variance Slots
A low variance slot is aimed at players who intend to play for as long as they can on a set budget. They have been designed to be low risk slots which will mean players are less likely to lose their set budget at a fast rate, but it is also rare that a particularly large win will come in on such a slot.
Jackpots tend to be among the lowest around, and most wins will come from combinations of low value symbols that pay-out the bet price or slightly less or more than that.
This keeps your balance around the same spot, only ever fluctuating slightly in value (apart from in rare cases where big wins come in) and are therefore able to be played for long periods of time without the risk of losing too much, or indeed the reward of winning a great deal.
Low variance slots are normally those favoured by players with casino bonuses, with frequent, low value winning combinations giving value from the bonuses, and also giving the legitimate chance of being able to reach the play through requirement on a bonus so as to be able to cash out winnings above that level.
Low variance slots are also highly recommended for those who are taking their first steps into the world of online slot games due to the relatively safe and low risk nature of the games.
Medium Variance Slots
With those looking for safe, low risk play preferring low variance slots, and players who prefer to swing for the fences favouring a high-risk title, there is a large middle area where most online casino players can be found, and as a result, most slot games will try and appeal to this market.
These slots are, somewhat predictably, known as medium variance, and they offer the balance between risk and reward that many players are looking for, without any unexpected surprises that can affect a player's experience, not to mention the pocket.
Medium variance slots could be seen as the best of both worlds, combining high and low jackpots, and bonus features that can lead to various levels of pay-out for the player.
Medium variance slots have a lower chance of low value winning combinations coming in regularly, instead you will get a better balance of high and low value wins, but these will come in less often, meaning you could see a budget disappear quickly, or increase substantially.
A conservative player who is a little more experienced when it comes to online slot play may gravitate from low variance to medium variance slots, without the high risk high reward philosophy that one will come across when it gets to high variance slots.
The chances of winning and losing sit around equal with medium variance slots. Unlike low variance slots, when the most likely result is that you more or less break even, medium variance slots are more likely to give you a decent win or a fairly strong loss, but you can still have a relatively strong control over your money and, as long as your careful, you won't lose too big unless you bet too big.
If you are not a fan of risk at all, then sticking to low variance slots is by far the most sensible option, but if you fancy taking a step up, aim at a medium variance slot and see how you feel, you could always go back to low variance if it's not for you.
Possibly the biggest plus point when it comes to medium variance slots is the variety on offer. Due to most slots falling into this category, many of the big names you have heard of, and some of the nicest surprises you haven't, will be found when looking for a medium variance slot. This means that you will get a strong collection of attractive themes and attractive features on offer from these slots.
High Variance Slots
You have probably realised how this works by now, if low variance slots are the safest way, and medium variance is the middle ground, then high variance slots are for those who don't only like a risk, but also have the bankroll to be able to afford to take one.
High variance slots are structured in a way that they have a paytable that is full of high value wins, and any winning combination on an active payline is likely to pay out more than the bet you've made. However, there is, obviously, a flipside of this coin, and that is that these wins are far less likely to come in, meaning you could find your money disappears very quickly if you do not get lucky on a high variance slot.
The most exciting base games features available will be found on high variance slots, these include the likes of wild multiplier symbols, where a wild symbol doesn't only play a part in any winning combination, but will also multiply that win by a certain amount, and stacked wilds or symbols, where stacks of a high value symbol will appear on specific reels, making winning combinations more likely to appear on multiplier paylines.
Special feature rounds are also at their most profitable (again, if you're lucky) with high variance slots, free spins features will often include increased wild symbols, multipliers, and can often be retriggered multiple times during the feature to offer many chances at very big wins.
You will also find some surprisingly good click and pick features in these games. Pick and click features normally involve picking one of several symbols, and winning whatever is underneath the chosen one. With high variance slots, you are more likely to have the chance to keep picking symbols and winning prizes until a symbol is uncovered that means the round is over.
Obviously, such high rewards must be compensated for by the game developer, and as a result you can pretty much say goodbye to the option of several low-value winning combinations here. This doesn't mean that you are as unlikely to pick up a high-value win on a high variance slot as you are a low value win on a low variance slot, in fact, it is substantially less likely that any wins will come in for you at all on these slots.
This is why the aforementioned high bankroll is necessary, because you may have to spend the budget of three or four low variance slot players before you pick up any win at all, which means that however big that win is, it might not be big enough to pay you back what you've lost. However, it does also mean that, if you have the money to keep spinning, there is a slim chance that you could pick up a genuinely life-changing amount of money from one lucky spin on a high variance slot. We've all read stories of it happening, we know it does, but it is also important to remember that it is incredibly rare for such a win to come in, and you are more likely to lose money than win it on any slot, but especially on a high variance game.
Essentially, variance means the likelihood you have of losing, or winning, large sums of money. The easiest way to work your way through these slots and get a strong understanding of how they work, is to start at low variance, and then if you feel confident, and you have the money and the self-control, then step up to medium variance, and then, again if you and your bankroll can afford it, move up to the high variance game.
It may seem on paper like high variance slots are by default the most exciting, but with countless games of all variance levels available, you can always find something that suits you, whatever level you are looking for.