No Wagering Requirements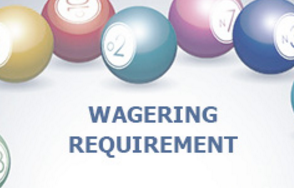 If you play at online casinos often, the chances are you have tried a bunch of different promotions, bonuses, and welcome packages during that time.
Promotions are great, and everyone likes free treats, but such bonuses are often ruined a little by hefty wagering requirements that are attached to them, meaning that you have to spend money to make money, and that does not always work out.
Wagering requirements are seen by many as a necessary part of the iGaming world, but every now and again, you will stumble upon a site that does things differently, a site that does not have wagering requirements at all.
What is a Wagering Requirement?
A wagering requirement is small print that is attached to a bonus you are given by an online casino. The wagering requirement requires you to wager a certain amount before you can access winnings that you have made from any bonus money you receive.
To give an example, say you have just started playing at a new online casino, and they have offered you a 100% welcome bonus on your first deposit, with a 50x wagering requirement.
Despite their being a maximum limit on this promotion of £300, you decide to play it safe, and deposit £10, which means you receive a £10 bonus.
The 50x wagering requirement that is attached to that bonus means that you must continue playing with that bonus money until one of two things happens, either you have wagered it 50x (i.e. you have wagered £500 on games at the site) or the bonus money has run out. It will not surprise many to hear that the latter option is the more frequent.
Another thing to be aware of, is that not all games at a site count towards the wagering requirement, and some only do in part. Money you wager on slots will normally go towards the wagering requirement in its entirety, but it's not rare for table and card games, for example, to only have 50% of the wagered money go towards this requirement, sometimes even less.
Why do Casinos Use Wagering Requirements?
The answer to this question is simple, the online casino world is a business, and online casinos are, at the end of the day, all looking to make money.
Yes, promotions can be exciting and tempting, and if you're lucky they can also be profitable, but online casinos will cover their backs in any way they can, and wagering requirements are an excellent way for them to do that.
Think of it from their perspective, if a site offered up to £300 to every player, they could find that players take that bonus, withdraw it, and leave.
Wagering requirements don't only protect against this, they also ensure that the casino only has to pay out a very small percentage of the bonuses that are given to its players, due to many not reaching the necessary wagering requirements within the time limit, which is normally between 30 and 90 days but can be as short as a week.
Can You Win When There's Wagering Requirements?
Wagering requirements may take some of the shine off an exciting promotion, but they do not for a second mean that there is no chance of you winning, casinos would not be allowed to put them in place if it meant that.
What it does mean, however, is that it is less likely that you will win the bonus you have been offered. Basically, you will need to go on quite the lucky streak and build up some nice wins in a line, then once you have passed the wagering requirement, everything else that you earn is your money. It's not impossible to do this, it's just by no means a guarantee.
No Wagering Requirement Casinos
Then, there is a rare breed of casino that hides away at the edges, with many not even realising that they are there. Heroic casinos that take the hit on the bonuses they offer, and attach no wagering requirements at all to their promotions.
These sites are far from common, but they do exist, and they exist to take advantage of the fact that online casino players are, perhaps unsurprisingly, not overly keen on wagering requirements, considering them unfair.
The frustration of players who have seen bonus after bonus disappear when they haven't been able to reach the stated wagering requirements has led to a market for casinos that do not have these caveats in place.
Here are a few of the casinos that you will find who do not attach wagering requirements to their promotions:
Guts Casino
Guts Casino have a no wagering requirements policy on their free spins. This basically means that if a Guts Casino promotion gives you 25 free spins, and then you go on a hot streak and land £250 from those 25 spins, all that money is yours, and you can withdraw it immediately.
Kaboo Casino
Kaboo Casino lit the online casino world on fire when it was released in 2016, a unique site with a dark and eerie tone, and a narrative that plays out as you play at the site, meaning that you are playing one big Kaboo game while you are playing your favourite slots or casino titles, Kaboo also developed a reputation due to them never attaching wagering requirements to their free spins.
Thrills Casino
Kaboo's older brother, Thrills Casino is one of the oldest sites to not bother with wagering requirements with their free spins, instead allowing players to withdraw anything they win from their free spins.
That's not all though, Thrills Casino also offers Super Spins, which are like free spins, but with higher bet amounts, and these spins do not have wagering requirements attached to them either!
7Red Casino
A slightly different approach from 7Red, who have taken the unheard-of step of attaching no wagering requirements to bonus cash.
To ensure players won't just withdraw their bonus cash as soon as they get it, your bonus money cannot be withdrawn here, however, any money you make while wagering that bonus cash is yours, and is subject to no wagering requirements at all!
Casinos with Low Wagering Requirements
Existing in the space just above (or below, depending on your outlook) the casinos that have no wagering requirements, are those which set their requirements lower than most.
With most casinos attaching wagering requirements of somewhere between 40x and 50 x on all their bonuses and promotions, there are a couple of sites who stand out because their requirements are set at half that.
Hello Casino
Hello Casino is a charming little casino which offers lower wagering requirements than most of its competition.
The welcome bonus at Hello Casino offers up to £1,100 on your first three deposits, as well as 150 free spins. What makes this bonus even more impressive, is that the wagering requirement is set at just 25x.
Video Slots
Coming in with an even lower wagering requirement than Hello Casino, Video Slots is a popular site that offers a 100% bonus up to €400 on your first deposit along with 150m free spins, as well as 11 free spins before you even deposit anything.
These is an impressive welcome to say the least, and a host of other promotions that are also available for existing Video Slots customers help even more than that. However, the kicker here is that all Video Slots promotions come with a wagering requirement of just 20x your bonus amount.
Picking the Right Casino
The sites listed above remove the long-kept assumption held by online casino players that wagering requirements are a necessary evil, because they are not.
Granted, it is understandable why many sites use them, but not all do, and that's great. But, that does not mean that you should only visit casinos that do not have wagering requirements.
Choosing the right casino to suit your needs, desires, and playing style is far from an easy decision, and should never only be based on one factor.
The no and low wagering requirement casino listed above are all excellent choices, Kaboo is phenomenal if you're looking for something different, Thrills offers a comprehensive list of every game type you could want, Video Slots has one of the most impressive collections of slots around, but that doesn't mean that sites which do offer wagering requirements are not valid options.
The right online casino should be chosen based on style and theme, games on offer, promotions, trustworthiness, customer service, payment options, reputation, and many other factors, it should not begin and end with wagering requirements.
However, the one thing that is important, is to remain aware of wagering requirements, because a high wagering requirement can make a great offer lose its temptation in a hurry.
For example, for many players, a 100% bonus up to £40 with a low wagering requirement, could be a better option than a 300% bonus up to £4,000 with a high wagering requirement, because if you are unlikely to hit that requirement, then the bonus becomes redundant.