A Dictionary of Online Casino Terms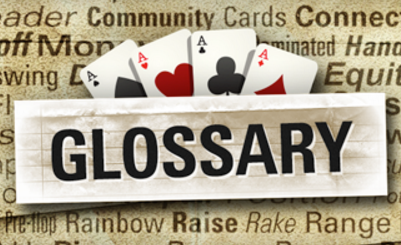 The online casino world can feel like it has a language all of its own sometimes, and to a large extent, it sort of does.
Here is an alphabetical list of some of the most used terms that you should be familiar with if you intend to spend time playing online casino games.
243 Ways to Win – Paylines come in many forms with online casinos, normally meaning you have to pick how many paylines you want to pay to play with (we'll get into that later). However, with 243 ways to win games, which are becoming increasingly popular, every possible winning combination will be active from left to right, giving you 243 ways to win.
Ante – Ante is a term used in card games, and refers to the compulsory bet you need to play before receiving your hand.
Bankroll – Bankroll means different things in different places, in the online casino industry, it means the amount of money that either the player or the casino has available for wagering.
Bet Max and Bet Min – Bet Max is the maximum amount you stake on a single spin on a slot game, Bet Min is, as you can probably guess, the minimum.
Bonus Feature – Bonus features are one of the most important aspects of an online slot game, this refer to the features or mini games that you can trigger by landing certain combinations of simples, this will often involve free spins or pick and click games.
Cascading Reels – Also referred to as Collapsing Reels, and many other similar terms, Cascading Reels is a feature that means after a winning combination, the symbols involved in the win disappear, and those above them fall into their place, plausibly creating further winning combinations.
Cashback – The concept of cashback is something most of us are familiar with, when it comes to online casino sites, cashback refers to bonuses, paid out in either bonus or real money funds, which return a certain percentage of the losses to a player that they have accrued during playing.
Coins – Most games slot operate via an amount of coins, these coins will have a cash value, coins refer to the amount a player bets on each payline, which add up to make the total bet per spin.
Deuce – If you watch American films based in casinos, the chances are you've heard the word Deuce, which simply refers to the number 2 on a dice, although it is also used to refer to the four 2 cards in a deck.
Edge – Also called the House Edge or House Advantage, the Edge is a term for the odds favouring the casino in a game. Essentially, this is the percentage ratio that the House has of winning over the player.
Expanding Wilds – Expanding Wilds are wild symbols in slot games that have the ability to grow (or expand) to cover anything up to a whole reel, these can lead to big wins by being included in multiple paylines.
Face Cards – In simple terms, Face Cards are the cards in a deck with faces on them, namely the Jack, Queen, and Ace.
Free Spins – As mentioned previously, free spins are the most popular feature for a slot game. This feature is fairly self-explanatory, in that you get spins you don't have to pay for. However, this feature comes in many forms, including various amounts of spins, and other added bonuses such as multipliers and Expanding Wilds. Many free spins features can also be re-triggered from within the feature by landing the symbol combination that triggered them initially.
High Roller – A high roller is a player who makes large bets at online casinos.
Hit – "Hit me" is a term often heard in blackjack games, a hit is a request for an additional card within the game.
House – A term that often causes confusion, with some assuming the house and the casino are two different things, the House is in fact just another term for the casino one is playing at.
House Rules – However, when it comes to House Rules, this doesn't always refer to the casino one is playing at, in the online world, the House Rules are often the rules of the specific game one is playing.
Insurance – If a player's face up card in online blackjack is an ace, they will be offered a bet, this is known as Insurance.
Insurance Bet – Not to be confused with Insurance, an Insurance Bet is when several bets cover each other.
License - Any trusted casino with have a license from one or more gambling regulatory bodies, some are more trusted than others, so it is worth putting some research in when signing up to a new site.
Line Bet – The Line Bet is the price a player pays per active payline in a slot game.
Multi-Player Casino – This is when, instead of playing against the computer or a dealer, players can play real money games against each other at an online casino.
Multiplier – Multipliers come in many forms in slot games, they may be specific symbols in slot games, or an increasing multiplier may be part of a free spins feature or other bonus game. In all scenarios, a multiplier will multiply your winnings by a set amount.
No Deposit Bonus – This is a bonus offered to a player when they first sign up to a casino site, but before they make their first deposit. A No Deposit bonus normally comes in the shape of a small amount of bonus money, or a set amount of free spins. There is normally a Playthrough Requirement in place with such bonuses.
Odds – One of the most used terms in the world of iGaming, used in everything from slots to sports betting, the odds are the players' chances of winning, and/or the possible outcomes of a game or event.
Payline – Paylines are sequences on slot games that run from left to right, they can go straight, diagonally, or in a number of other shapes across the reels. The more paylines you bet on, the higher the price of your bet, but the more chances you have of winning. If a winning combination appears on a payline that you have bet on, you will receive the pay-out from that win.
Pay-out – The Pay-out is the amount you will receive for a win, be it a win on a table and card game, or a winning combination on a slot game.
Paytable – One of the most important tools for those starting out playing online slots. The Paytable is a table that comes with every slot game, setting out the winning payline combinations and how the slot works, it is always worth reading these when first playing a new slot.
Playthrough Requirement – A Playthrough requirement is the amount a player must wager in order to gain access to wins achieved using bonus funds.
Progressive Jackpot – Whenever you read stories of a lucky player picking up a win in the multiple millions, this is normally due to a Progressive Jackpot game. A Progressive Jackpot grows every time a player places a bet on a slot, and will keep building until the winning combination which unlocks it is achieved.
Punto Banco – Many get confused as to what game Punto Banco is, but it is in fact just another term for popular online casino game, Baccarat.
RNG – RNG stands for Random Number Generator, and simply refers to the tool within a slot game that produces the outcome of each spin.
Scatters – Scatter symbols on an online slot are normally those that trigger the free spins or other features. You will normally need to land three of these to unlock a feature, but this can change from game to game.
Shifting Wilds – Shifting Wilds are another pretty self-explanatory feature, wilds will shift around the reels each time there is a winning combination, often leading to runs of wins.
Stacked Wilds – Stacked Wilds are similar to Expanding Wilds, except they are already expanded to create stacks of two or more symbols that can cover anything up to a full reel.
Sticky Wilds – Another popular wild based feature, Sticky Wilds are wilds that will stay in place after a winning spin, and continue to stay in place for as many consecutive winning combinations as a player can land.
Twenty-One – A term that is less used than it once was, Twenty-One is another name for a casino favourite, Blackjack.
VIP – Similar to a High Roller, a VIP is a player who places large bets, and is often, therefore, treated exceptionally well by a casino, especially those with special VIP programs that players can work their way up through by wagering increasing amounts.
Wagering Requirement – A Wagering Requirement is similar to a Playthrough requirement, except that it is a multiplied amount of both the wager and bonus amount that one needs to spend before gaining access to winnings.
Welcome Bonus – A Welcome Bonus is the promotion a casino offers up to players who are signing up for the first time. These bonuses vary, but normally involve offering a percentage (often 100%, which is also known as a deposit match) of the players first deposit as a wager. Some sites will offer deposit bonuses on a player's first few deposits, where others will also offer a set amount of free spins.
Wild Symbols – As this list makes clear, wild symbols come in many forms, but they are also often present on the reels of online slots as a singular symbol. A wild symbol will replace any other symbol (often with the exception of a scatter symbol) to assist with the creation of a winning combination.
Withdrawals – A withdrawal is as it sounds, it is a request from a player to take money from their casino account.
Obviously, there are more terms than these, and the popularity of the industry means that new slang is popping up all the time. But as long as you have an idea of the above terms, then you should be able to find your footing within the world of online casinos.