If the signs are true, and at this point there is no reason to suggest they are not, then the mega jackpot on NetEnt's popular progressive slot Mega Fortune has been won for the second time in 2018.
The win is not yet confirmed, but the jackpot figure dropped to just over €200k, which is usually a sure-fire sign that someone has won big.
The amount the player won is not 100% confirmed yet either, but if a win has been picked up, then it will be for at least €2.6 million, which is a life-changing sum of money for almost anybody.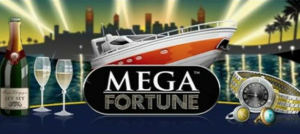 Mega Fortune
If confirmed, this will be the second time that Mega Fortune has paid out already in 2018, with this jackpot being somewhat under the average payout, although we assume that, being over €2.5 million better off, the winner isn't going to be shedding any tears about that!
If the progressive jackpot has indeed been won, then it will start to build up again, and likely reach the millions in a very short space of time based on the slot's history.
Other NetEnt Progressives Set to Pop
The Mega Fortune jackpot probably isn't dropping for a while now (although there's no guarantee of that) but there are two other NetEnt progressive jackpot slots that are ready to go.
After going a year up to last August without dropping its jackpot, Arabian Nights has built back up, and is approaching its average payout of €1.1 million, while the Hall of Gods slot has just past €5 million, and is now around its average payout too, so there's a couple of huge wins expected to happen soon, and you never know, it might just be you that picks one of them up!