The Best Sports Themed Slot Games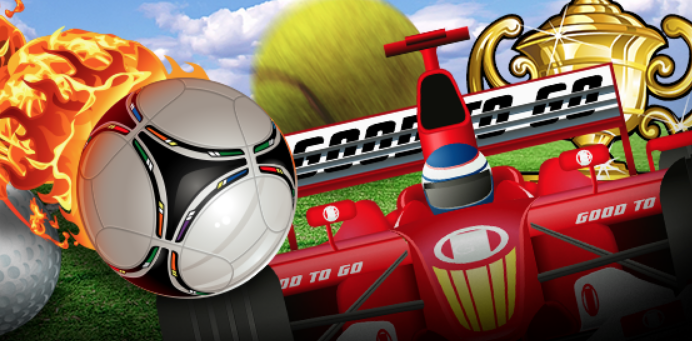 When it comes to listing things in order of popularity, whether it's locally or globally, online gambling and sports will probably be pretty near the top.
It is no surprise that the two cross paths often, with sports betting and fantasy sports being huge industries, and many online casino games being based on sports themes.
The world of slots is usually at the forefront when it comes to capitalising on a popular theme, and with the ease in which sports topics can translate into exciting gameplay features, this can be done very well.
Obviously, there are a lot of sports themed slots games in the worlds, and they're not all great. An industry being this competitive can be great for players, because there is a huge amount of choice and it's constantly increasing.
However, this does come with a downside, because with that many games available, it's hard to know where to look, and you could end up playing a lot of poor quality sports-themed slot games before you eventually find a good one.
As always, we are here to make the whole process easier for you with this guide, which will introduce you to a few of the very best sports-themed slots you're going to find anywhere.
Obviously, there are more than this, and quality is, to a degree, a matter of preference, but you'll find at least a few ideas in this list that will appeal to you.
Football: Champions Cup - NetEnt
It's a little weird that it took hugely popular Swedish software developer NetEnt until 2016 to create their first football themed slot, but they nailed it first time with Football: Champions Cup, which was released in time to coincide with the 2016 European Championships.
A stunning looking slot with themed symbols on the reels and a bright and bold colour scheme, this is a slot that catches your attention quickly just for how it looks, but the features will ensure it's kept.
The free spins feature gives you six spins, and then another six if you make it to the quarter finals, then the semis, then the finals, if you land more red wilds than blue wilds, you progress through each round, there's a 500x multiplier available if you win the final.
Then there's a penalty shootout round where you get to play as both shooter and keeper at different points and collect multipliers.
Basketball Star – Microgaming
Basketball Star has been something of an unexpected hit, especially in the UK where basketball is far from the most popular sport, yet this slot found so much success that it has spawned spin-offs including Rugby Star and Football Star.
This isn't the most incredible looking slot, Microgaming have certainly made far more attractive games in the past, but there's something about this one that connects with players.
The bonus features are undoubtedly a large cause of the game's popularity, with stacked wilds on reels three, four, and five that substitute for all but the scatter symbol.
A Wild Shot Feature happens randomly during the base game and turns up to two reels wild for a guaranteed win. The game also benefits from a Rolling or Cascading Reels feature, meaning consecutive wins can be gained on a single spin.
The free spins feature is triggered by landing three, four, or five scatter symbols for 15, 20, or 25 spins respectively, during the spins, the multiplier goes up after each consecutive Rolling Reels win up to a maximum of 10x the bet amount.
Frankie Dettori's Magic Seven - Playtech
This jackpot slot is another hugely popular sports based game, based on Dettori's legendary day at Ascot in 1996 when he won all seven of the day's races.
A five-reel, 25 payline slot from popular software developer Playtech, the reels show three different symbols of the man himself, as well as horseshoes, a winner's cup, and more.
Again, this isn't the most visually striking slot, but the gameplay features more than make up for it.
If you land the Bonus symbol on reels one and five, you will enter the bonus game where you pick six of 20 spots on the racecourse to reveal cash prizes or multiplier trophies.
Land three Magic Seven symbols and you will enter a horse race, if your horse wins, you get 35 free spins, with 15 spins for second place and ten spins for third. There's also a gamble button which means you can double your win, but there's also a 50/50 chance of losing your win.
This slot also benefits from a progressive jackpot, which triggers randomly and can lead to a truly life-changing win if you're lucky.
Rocky – Playtech
This is a slot that earns its place on any list about either movie-based slots or sports-themed slots, because it does both beautifully.
Based on the classic Sylvester Stallone movie franchise which is as loved now as it was 40 years ago., this slot brings the movie to life beautifully, and is highly recommended for any slots fans with a love of boxing.
Playtech have shown their ability to turn movies into great slots time and again, and this 2013 release may well be one of their best, with characters from the film including Rocky, Apollo Creed, and Ivan Drago, making up the high value symbols on the reels.
With five-reels and 25 paylines, this game offers a Knockout Bonus game that activates if you land a white and a red boxing glove on reels one and five respectively.
Now you get to pick an opponent, which you are guaranteed to win by knockout, but you might not win every round. The more of the ten rounds you win, the more cash prizes you'll pick up. If you knock the opponent out early, you will receive the prizes from all the unfought rounds.
The free spins feature is triggered by landing three, four, or five Rocky scatter symbols for 15, 20, and 25 free spins respectively. There's a 2x multiplier on every win here too so anything you pick up will be doubled.
UFC - Endemol
This isn't the latest slot based on the UFC (Ultimate Fighting Champion), and there's probably more to come, but it is arguably the best, and definitely the most popular.
Released in 2013 by Endemol, when the UFC roster was full of famous faces that have gone on to have huge success elsewhere like Brock Lesnar (WWE) and Rampage Jackson (The A-Team movie) as well as legendary UFC fighters including Anderson Silva and Jon "Bones" Jones.
You choose your fighter at the beginning of the game, and then you play through this five-reel, 20 payline slot that's set in the UFC Octagon, with a punch ball, ring announcer, and more on the reels, while the J, Q, K, and A playing card symbols play the part of the lower value symbols.
Your chosen fighter acts as a wild symbol, and there's two bonus symbols which both trigger features.
Land the Golden Wild symbol on the middle reel and it will expand to cover the whole reel, with four other symbols becoming wild for that spin too, which is a nice tough.
Land three of the Championship Belt Bonus symbols on reels one, three, and five, and you'll trigger a mini-game where spinning the reels selects moves for your fighter to fight an opponent and the better you do in the fight, the more you'll win.
Land three of the Fist Bump symbols and you'll enter the Training Bonus game, pick the fighters you would like to train against, and the better you perform, the more free spins you will win.
This is a great game that is very loyal to its theme, well worth a few spins if you're a UFC fan, or even if you're just a slot fan!
Shoot! – Microgaming
We started with a football themed slot from 2016, and we'll end with one that's a few years older, but no less popular.
Shoot! is a Microgaming slot that focuses on the beautiful game, with football legends like George Best, Johan Cruyff, Diego Maradona, Franz Beckenbaur, and Pele adorning the reels, alongside a pie and a rattle.
Shoot! is themed on the classic football magazine that many UK players will remember from their youth, that was once selling over 100,000 copies a week. It may be online only now, but people haven't forgot the classic publication, and this slot allows those who read it in their younger days to enjoy some nostalgia while also possibly picking up some nice wins.
Land three or more of the Bonus Symbols on the reels and you'll trigger the Trade 'Em feature, where you pick four player cards from a set of 12, with cash prizes, free spins, and the Magazine Bonus all able to be won.
The Magazine Bonus has a similar logic, except this time you pick from 12 magazines, and keep picking and revealing prizes until you find a red card, of which there are two, and they immediately end the game.
Pick the Free Spins card in the Trade 'Em feature and you'll get yourself with 10 and 35 free spins, so there's a lot of ways to win here.
No matter what your favourite sport is, there's bound to be a slot game based on it, but if you're not sure where to start, any one of the slots listed above would be an excellent choice for you.