Win Tickets to See Take That in Concert with Gala Casino
If you remember the 90s, or even if you don't, there is little argument that despite the huge numbers of boy bands who have enjoyed immense success over the last two decades or so, the band that started it all, Take That, are still the best around.
After enjoying huge popularity during the 90s, the group reformed and enjoyed all that and more again in the last few years!
If you are a massive Take That fan, then there is a promotion running at Gala Casino right now that you really need to be aware of.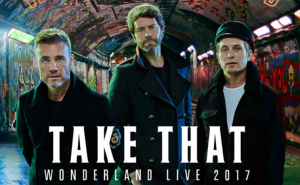 About the promotion
Take That's upcoming UK tour, their tenth, has already sold old across the country, but Gala Casino have two sets of tickets, and they are putting them up as prizes in their latest promotion.
To win the tickets you can play slot games or table games, depending on your preference, there is a leaderboard for each game type, so nobody gets preferential treatment.
To get involved, you first need to opt-in, then you will earn one ticket for every £10 you wager on slots or table games, remember the leaderboards are separate though, so it's worth picking a leaderboard and sticking to it.
The prize
If you manage to make your way to the top of either leaderboard, you're going to see Take That in June, as well as complimentary drinks at the Venue, a meal before the concert, accommodation for the night, and £100 towards travel expenses to and from the venue.
Win this competition, and you're not only going to see Take That, you're going to see them in style, and you'll get two tickets, so you can bring a friend, so if you do win, expect those close to you to start being really, really nice to you!